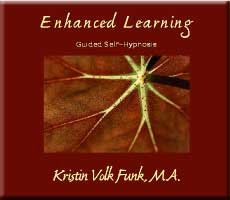 My Enhanced Learning Hypnosis Download MP3 uses powerful guided imagery techniques to help you stay focused, alert and emotionally charged. Listening to it following a study period or while falling asleep at night can increase your mental powers of concentration while boosting your confidence and motivation to learn.
About ADD: I first learned of the therapeutic benefits of hypnosis for ADD (Attention Deficit Disorder) when a young man came to me with the issue of finishing a research paper that was the last, and most difficult step for him, before completing his bachelors degree. I heard from him two weeks later when he told me that not only did he finish his paper, but that he no longer felt the need to take Ritalin! He said he had felt very focused and was able to mentally concentrate after our session and after listening to my Hypnosis Download MP3 at night.
Since that session several years ago, I have successfully worked with children and adults who desire to mentally function at their best without the use of drugs.
This Hypnosis Download MP3 is beneficial for all students. Begin to use your mind to its full capacity and intellect!
---
---
[cart-button item="3001″ ]
---
Testimonials
"Kristin, my son used your hypnosis techniques every night during Christmas break. When he returned to school in January, his teacher told me that he was a completely different student. He is now focused, well behaved and getting A's. Best of all, we won't be needing Ritalin! How can we thank you enough?"
Ann, Minneapolis
---
Podcast: Play in new window | Download