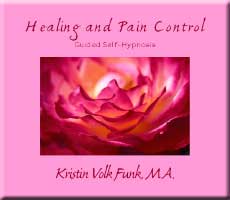 The Healing and Pain Control Hypnosis Download MP3 features progressive muscle relaxation, healing light visualization and affirmations for inner peace, hope and healing. Designed for those experiencing chronic or acute pain, or for those receiving medical treatment for illness, this recording applies the findings of years of research showing that a focused mind and a relaxed body can aid in the control of physical pain and promote healing. This recording includes soothing music and imagery for wellness and happiness.
Listening to my Healing and Pain Control Hypnosis Download MP3 can help you control pain, increase your immune system capability, and feel positive about your medical treatment. Use it to ease pain during childbirth, dental work, minor surgery, and to reduce anxiety and other negative effects of chemotherapy.
Physical Healing and Pain Control
In an analysis published in the International Journal of Clinical and Experimental Hypnosis, hypnotic suggestions relieved the pain of 75 percent of 933 subjects participating in 27 different experiments and that the pain-relieving effect of hypnosis was often substantial. In some cases the degree of relief matched or exceeded that provided by morphine.
In my work with individuals challenged by physical illness, I have found that people can indeed learn to ease ailments such as migraines, muscle pain, and back pain, People can learn to slow down their breathing and heart rate simply by imagining peaceful scenes and hearing positive statements. Many clients come to me prior to surgery to help ease anxiety and to hasten healing.
In the October, 2000 issue of Prevention Magazine, it was reported that Blue Shield of California was encouraging patients who were scheduled for 90 different types of major surgery to listen to guided imagery recordings, including procedures for colorectal cancer, blocked coronary arteries and some types of hysterectomies.
Minute Visualization for Healing: Imagine your illness like a red mist that you exhale with each exhalation. See a soft white healing mist that you inhale with every breath you take. Feel the healing white light spread peacefully throughout your body.
---
---
[cart-button item="7001″]
---
Testimonials
"I came to Kristin because of fibromyalgia. I wasn't sleeping and I was in pain all of the time. I was not able to take care of myself and I was really stressed out. Since my three sessions, I am sleeping and my pain is pretty much gone! I am able to think better and take care of myself and my family."
– Becky, Minnesota
"Kristin, my terrible migraines used to keep me in bed several days every month. I've been on medication for twenty years with almost no relief and have had a hard time keeping jobs because of my pain. Your hypnosis is the only thing that has worked for me. When I feel the slight beginnings of a headache I lie down and listen to your Pain CD and the migraine disappears. I'm now working full-time!."
– JC, Mpls
"Listening to your Healing and Pain Control CD allowed me to face my hysterectomy with surprising calm. The surgeon couldn't believe how peaceful I was after my surgery and how little pain medication I needed. Thank you so much! "
---
Podcast: Play in new window | Download