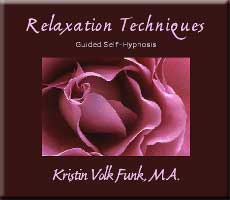 My Relaxation Techniques Hypnosis Download MP3 has five Easy and Effective Techniques for Stress Reduction.
Relax and allow each track to guide you in effective step-by-step techniques for deep and soothing relaxation:
Breathing Techniques To Release Tension 15:02
Progressive Muscle Relaxation 9:32
One-Minute Visualizations 5:14
Self Talk to Calm 4:41
Guided Visualization: Beach Scene 8:50
---
---
Sometimes the tension and stress of everyday life can seem overwhelming. As a therapist I help people learn to effortlessly incorporate quick and pleasant relaxation techniques into their daily routine. For instance, just taking a few deep breaths while waiting for the traffic light to turn green will give you such immediate relief that you may soon be wishing for red lights, instead of cursing them! Try my One-Minute Visualizations and Progressive Muscle Relaxation techniques. They take only a few moments but provide long-lasting rewards.
What does your inner dialogue sound like? If you're like most people, your self-talk recording could use some editing! Silently repeating positive statements, called affirmations, instantly leads to positive feelings and calmer behavior. It is a simple, yet profound, way to take control of your body, mind and emotions.
Take a moment to enjoy a soothing guided imagery session, sometimes referred to by my clients as a "mind massage"! Mentally taking yourself to a place of quiet and serenity is a wonderful break from your busy daily routine. Listening to my Beach Scene Imagery will guide you into a deep and beautiful state of relaxation and calm.
Each of these techniques will assist you in learning how pleasant and natural relaxation can be, no matter what is going on around you.
---
[cart-button item="10003″]
---
Testimonials
"Kristin, In our fast, bustling world creating moments of "peace" can be very difficult. I have been using your tapes since our workshop and have found them a great way to build a little tranquility in our hectic world. Have you any new ones? I would love to expand my library."
K. Barnett, Little Silver, NJ
"Every time I see a new recording of yours, I have to get it! I have most of your tapes now. I love them!"
Betty, Seattle, WA
---
Podcast: Play in new window | Download