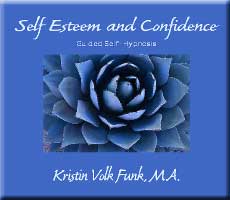 Low self esteem and lack of confidence can be serious barriers on our road to success and happiness. Feeling worthy of success is the first step to moving forward in life and embracing the abundance that surrounds us all.
The Self Esteem and Confidence Hypnosis CD is helpful for anyone suffering from:
Public speaking anxiety
Social anxiety
Phobias
Lack of confidence in business and sales
General feelings of low self esteem
The inner peace and calm that you experience while listening to this recording will stay with you, allowing you to feel fully charged for positive action and emotionally prepared to enjoy new opportunities in life.
---
---
[cart-button item="8002″]
---
Testimonials
"What used to cause me dread and anxiety (public speaking) now gives me joy! Thank you for helping me save my job."
Bob, Minnesota client
"I used your CD to give me confidence while applying for jobs. I now have a wonderful career and will keep listening to your CD to stay confident".
Julie J., Edina, Minnesota
"Kristin, your hypnosis work ended my life-long fear of heights. Thank you!"
Tom
---
Podcast: Play in new window | Download