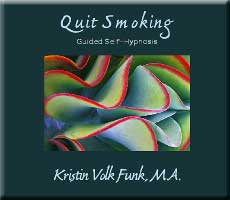 Have you been trying to quit smoking but find it difficult, if not impossible, to do so? Have you tried patches, drugs and nicotine gum without success? Do you substitute food for cigarettes when you quit smoking? There is hope!
My stop smoking hypnosis CD can make quitting smoking amazingly easy and without having to worry about the dreaded weight gain. Program your powerful subconscious mind to firmly and permanently reject cigarettes and embrace a healthy and positive lifestyle as a non-smoker. An added benefit to using this recording is the peaceful and relaxed attitude that will be yours while embarking on this important lifestyle change.
---
---
I have helped thousands of people quit smoking without withdrawal! Read on to see how I do it:
Although the majority of people who smoke strongly want to quit, most have difficulty doing so without first making changes in their subconscious mind. Due to past emotional associations with smoking the subconscious mind is actually programmed to view smoking as a positive and healthy event. This is why people commonly refer to cigarettes as their "best friends" and feel a sense of loss when they think about quitting.
This does not mean that you lack will power! It simply means that your subconscious mind, which is able to over-ride conscious decisions, has the wrong information about cigarettes.
Your subconscious mind stores memories of events and emotions throughout your life and tries to protect you by giving you urges. Therefore, if you started smoking as a teenager to fit in with friends, you will get a strong urge today to smoke when you are in social situations. If you have ever smoked as a reward, as a distraction, or to relax, your subconscious mind will practically force you to smoke whenever you need rewards, distractions or relaxation in your daily life. Your subconscious mind is simply doing what it is meant to do: propel you to act in ways that it has been programmed to believe bring you happiness. It is merely acting on programmed information that is false.
Changing this programming can be extremely easy and enjoyable!
With hypnosis, the subconscious mind receives new and correct information that you already consciously know: You want to live. You want a healthy life. Cigarettes are toxic and keep you from what you desire: Vibrant Health!
Quit smoking without weight gain by powerfully programing your subconcious mind that:
Cigarettes are toxic, smelly and expensive
Smoking is stressful
You will now deal with life situations and emotions in healthy ways
Being a non-smoker is easy, calming and natural
You are a natural non-smoker. It is what you were born to be!
Now you can have the benefit of a personal hypnosis session in the comfort of your own home!
---
Physical Audio CD
[cart-button item="10008″]
Downloadable MP3
[cart-button item="10007″]
---
Testimonials
"Listening to your Quit Smoking tape keeps me smoke-free and calm. I feel wonderful!"
"Hi Kristin! I came to see you on June 16, 2000 to stop smoking. I thought of calling you from time to time, but I'm coming up on my 2 year anniversary of our session and I thought you'd like to know that I'm still not smoking. I'm very happy! Thank you!"
"Hi Kristin: I came in to see you to quit smoking 6 weeks and 4 days ago. I just wanted to tell you that I'm still smoke free and I wanted to say thank you very much for giving that to me."
"I listened to you Quit Smoking CD every night for two weeks. I was able to stop smoking without withdrawal symptoms and didn't gain a pound. I wish I had done this ten years ago!"
– Gary, Hudson, Wisconsin
"I gave your Quit Smoking tape to my sister and it's helped her immensely. She's smoke free and calm. It's the best gift I've ever given her!"
Nancy, St. Paul, MN
"Kristin, Your Quit Smoking recording really works. I no longer need to listen to it to stop smoking, since I'm now a non-smoker, but I keep it handy as a relaxation tool"
---
Podcast: Play in new window | Download