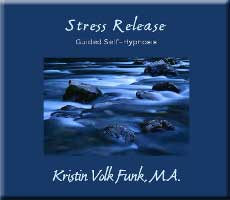 My Stress Relief Hypnosis CD is designed to release stored tension and anxiety and to promote inner peace and reflection, this recording will leave you feeling deeply relaxed. Allow yourself to be gently guided to soothing places of peace and serenity, surrounded by a healing light, and lulled into a beautifully relaxed mental and physical state. Enjoy this recording as a stress break during or after a tense day, to help ease anxiety during stressful life events, or to drift into a deep and restful night's sleep.
Did you know that an estimated 60 to 90 percent of doctor visits involve stress related illnesses? Learning to relax can help not only your mental attitude, but your energy level and overall health as well.
---
---
Research in the mind/body field shows that chronic stress wears down our bodies and makes us more prone to illness and depression.
Many people who have listened to my recordings, or have had sessions with me, have commented on how incredibly relaxed they feel for days afterwards. They also report clarity of thought, a general sense of well-being and an increased capacity to laugh and simply enjoy life.
Practicing positive thoughts and images alone can bring you deep physical, mental and emotional relaxation.
Try this little exercise that demonstrates how your thoughts and images affect your body: Close your eyes and go back in time to an event in your life that caused you anger. Replay that event in your mind and attend to how your body is responding. Tuning into your body, you may have noticed some remarkable physiological changes such as a rapidly beating heart, shallow breathing, tense shoulders. Just the act of remembering an event has the effect of re-living that event in the organs and muscles of your body. Now, think of a time of calm in your life and then tune into your body. You will probably notice an immediate calming and relaxing of your body, slower heart beat, deeper breathing and relaxed shoulder muscles.
Many of my clients have reported a beautiful lifting of depression and anxiety as their inner thoughts become more positive. Many have found this to be a delightful and permanent change in their attitude, mood and energy.
---
Physical Audio CD
[cart-button item="10006″]
Downloadable MP3
[cart-button item="10005″]
---
Testimonials
"The Stress Release tape has changed my life. When I hear Kristin's voice I can feel my stress literally lifting off of me. It floats our and away…far, far away. I am more relaxed and calm. Kristin Volk Funk, THANK YOU! You, without a doubt have literally saved my life"
Mary N.
"Kristin's tapes have benefited me in so many ways. The recordings create a relaxing and calm environment in which I may release my anxieties. When listened to before bed, the tapes soothe my mind so that I may sleep as peacefully as possible. Kristin's recordings are thoroughly serene and mentally cleansing"
HL, Little Silver, NJ
"I have used many, many relaxation tapes and this one is definitely the best! The music and voice are incredibly relaxing. I'm buying several for my friends and family."
Body.Mind,Life Expo attendee, Mpls Convention Center
"I never knew what real relaxation was until I listened to this CD. Your voice is so soothing. I can't believe the effect. Everyone I know needs this CD!"
D.S. St. Paul, MN
---
Podcast: Play in new window | Download