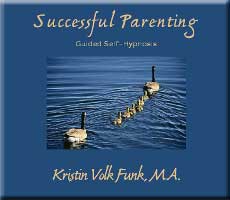 Give yourself a break from the hectic routine and stress that you face daily as a parent with my Successful Parenting Hypnosis Download MP3;. While drifting in a relaxed mental and physical state, listen to affirmations and suggestions designed by a licensed parent educator to help you respond to the most challenging parenting situations with patience, calm and loving communication. Images of a peaceful garden, a healing light and personal success are accompanied by soft, soothing music.
Have you noticed how highly sensitized children are to their parents' moods? When parents are angry and tense, children often internalize these emotions and act them out. They tend to feel more insecure and vulnerable. Conversely, when parents are able to respond with a calm demeanor, children feel more confident and are learning appropriate ways to deal with emotions.
My Successful Parenting Hypnosis Download MP3 incorporates my thirteen years experience as an educator and consultant in the parenting field.
This Hypnosis Download makes a wonderful and unique gift to a new or expectant parent!
---
---
[cart-button item="6001″]
---
Podcast: Play in new window | Download