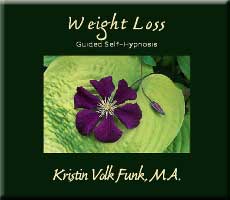 Take control of your eating habits with self-hypnosis! A background of soothing music accompanies powerful affirmations and visualizations to help you curb your appetite, eat nutritious food and eliminate emotional triggers to eating. My Weight Loss Hypnosis Download MP3, featuring suggestions for self esteem, energy and exercise, will help you stay motivated and content throughout your weight loss program.
Most people who come to me for help in losing weight share a common complaint: They consciously know what they need to do to lose weight, but can't seem to carry out these necessary weight loss actions. Many of them are feeling hopeless, frustrated and unmotivated to diet and exercise.
---
---
With the Weight Loss Hypnosis download you can easily and pleasantly begin acting in ways to assure your weight loss goals:
* Stop yo-yo dieting
* Eat only when you are hungry
* Feel full and satisfied with small portions of food
* Automatically reject and ignore unhealthy food products, such as sugar, refined carbohydrates, and fat.
* Eat only at appropriate times and places, Stop eating in the car or in front of the TV
* Crave healthy foods and water
* Feel motivated to exercise
* Deal with emotions without eating.
* Focus on positive self image and worthiness
Did you know that stress lowers metabolism?
Under stress, your body produces a hormone called cortisol, which is known to lower metabolism. Relaxation through such techniques as meditation, hypnosis and yoga will naturally lower your levels of cortisol and thereby increase your metabolism!
---
[cart-button item="10009″]
---
Testimonials
"I bought your weight loss hypnosis program for my daughter last year. She's lost 40 pounds! I'm buying another one for my mother!"
– Body, Mind, Life Expo participant, Minneapolis
"When I listen to your Weight Loss Hypnosis CD once a day I have no cravings for sugar or junk food. I feel like I'm in control for once!"
– Joan L, Roseville, MN
---
Podcast: Play in new window | Download